American Theorem, who has not started since running second to Eight Rings in the American Pharoah Stakes (G1) on Sept. 27, returned to the work tab Sunday at Santa Anita Park following a three-week hiatus. 
Trained by George Papadromou, American Theorem drilled four furlongs in :49.80 while under a snug hold by regular rider Tiago Perreira. It was his first work since another half-mile move in :49 flat on Jan. 26.
Papadromou said the extended break on the worktab was mostly the result of being cautious. 
"He's good, but with the rain situation and all that, and the track shutting down, I didn't want to risk anything," Papadromou said. "The track, they sealed it and then they opened it. We're just coming back, so I wanted to make sure everything is good."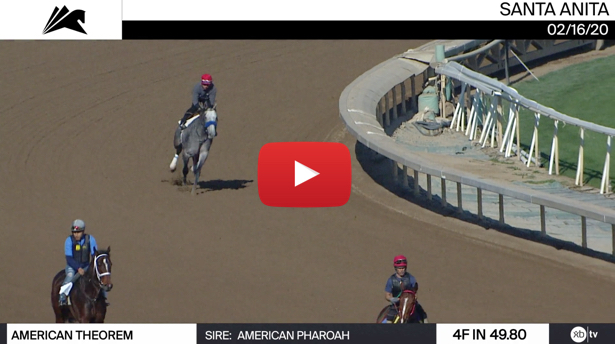 Papadromou has yet to decide on a return race for American Theorem, though it will likely come sometime in March.
Owned by Kretz Racing, American Theorem was a debut winner at Del Mar on Aug. 31 and came right back to finish second, beaten six lengths by Eight Rings in the American Pharoah. The son of American Pharoah was preparing for the Breeders' Cup Juvenile, but he developed "a little bit of a shin issue" that forced Papadromou to back off training.
American Theorem's runner-up to Eight Rings was enough to earn him a spot in pool one of the Kentucky Future Wager that closed Dec. 1. He received $4,230 in wagers and closed at 54-1.